2016
Best Cross Platform Mobile Development Tools
Last few years the market for enterprise-ready cross platform mobile development has taken off. Large and medium sized companies are adapting to the mobility and realising the need to offer tablet and smartphone access to their business apps, as well as the benefit of rolling out their own enterprise-to-customer apps. The need for the ability to rapidly develop and deploy apps at scale means cross platform development tools will only become more important.
As Webkit astonishingly zips fast with Nitro and Blink, cross platform is the future!.You can't keep reinventing the wheel!JavaScript engines have been undergoing incredible advances over the last several years
Apple had announced with iOS 8, that apps using the embedded web browser control, WKWebView, will gain full access to the powerful Nitro JavaScript engine.Also would support SPDY
Browser creators-Webkit Apple and Google- have invested heavily in improving JavaScript execution speed by adopting many tricks and techniques from optimizing compilers such as multi-stage JIT compiling and AOT compiling. Enhancements such as JavaScript's "use strict" strict mode helps reduces some of the flexibility of JavaScript, but enables more accurate analysis of the source code making it easier to apply traditional compiler optimizations. Mozilla's asm.js project extends this concept even more, further restricting what JavaScript code can do to allow for better optimizations. Apple's Nitro engine uses a 4 tier compiling strategy which can execute JavaScript 40 times faster than a traditional JavaScript interpreter!
IDC forecasts the market for such development platforms will see a compound annual growth rate of over-per Hindu BusinessLine newspaper- 38% reaching $4.8 billion by 2017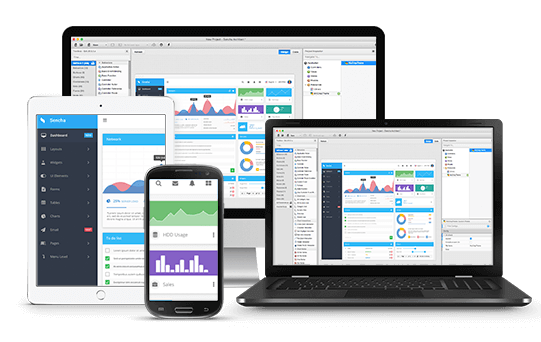 1. Sencha Platform
Sencha Comprehensive platform for Web Application Lifecycle Management — deliver high-impact, cross-platform web applications that drive competitive advantage for your business.Their main product is their jQuery like libraryExt Js 5, which Adobe was toying with a long time ago as Spry!. But their convoluted MVC patterns makes it very difficult.And pricing $4340, August 1, 2015
2. PhoneGap
Owned by Adobe, PhoneGap is a resource that app developers can use, although it as difficult or easy as native coding
As they say :- "We compile for you. Get app-store ready apps without the headache of maintaining native SDKs. We do the work for you in the cloud and your app will always be built with the most up-to-date SDK for the platform you are targeting."
Beyond iOS and Android, PhoneGap also creates apps for BlackBerry and Windows. Pricin 9.99$/ month minimum for more than 1 app
3. Appcelerator Titanium
Titanium SDK creates native iOS and Android apps!.Integrated MVC Framework.Quickly design prototype, with full reuse in the production app.Developers can focus on building fully reusable components in JavaScript.Easier to read and maintain code. pricing min $39/ month
4. Cocos2d
Cocos2d is primarily used in two-dimensional game development. It gives developers the option of five different forks or platforms to develop on, based on their preferred programming language:
5. Unity 3D
Also focused on creating great games, Unity 3D is a game engine you can use if you really want to take care of your incredible graphics.
It goes beyond being a simple translation tool. After developing your code in UnityScript, C#, or Boo, you can export your games to 17 different platforms, including iOS, Android, Windows, Web, Playstation, Xbox, Wii and Linux.
Once you got your game on all your chosen platforms, Unity will even help you distribute it to the appropriate stores, get social shares, and track user analytics.
6. Corona
Corona SDK comes with the promise that you can start coding your new app in as little as five minutes after the download. it is another cross platform mobile development tool that optimized for 2D gaming graphics and helps you make games 10 times faster than it would take to code everything from scratch.
Corona programming language is Lua, which is written in C, making it a cross platform language. Corona chose Lua because they found it to be really robust with a small footprint for mobile apps.
7. Xamarin
With a free starter option, Xamarin is a mobile development tool that includes app store delivery, performance testing and monitoring, and the ability to do virtual tests on more than 1,000 devices to make sure everything is working and displaying like it should.
Using Ruby or C# for code, Xamarin has created a robust cross platform mobile development platform that been adopted by big names like Microsoft, Foursquare, IBM, and Dow Jones.
UI and UX!
Keep in mind that cross platform mobile development is not quite as simple as writing the code once, putting it through a tool for compilation and interpretation, and publishing both an iOS and Android app to the respective app stores.
Using a cross platform mobile development tool can reduce the time and cost associated with developing apps on both platforms, but the UI needs to be updated to match each system. For example, adjustments are needed between the two so the menu and control commands match the UX of how Android devices and iOS devices operate inherently differently. And for this Ionic helps with the beautiful, open source front-end SDK for developing amazing mobile apps